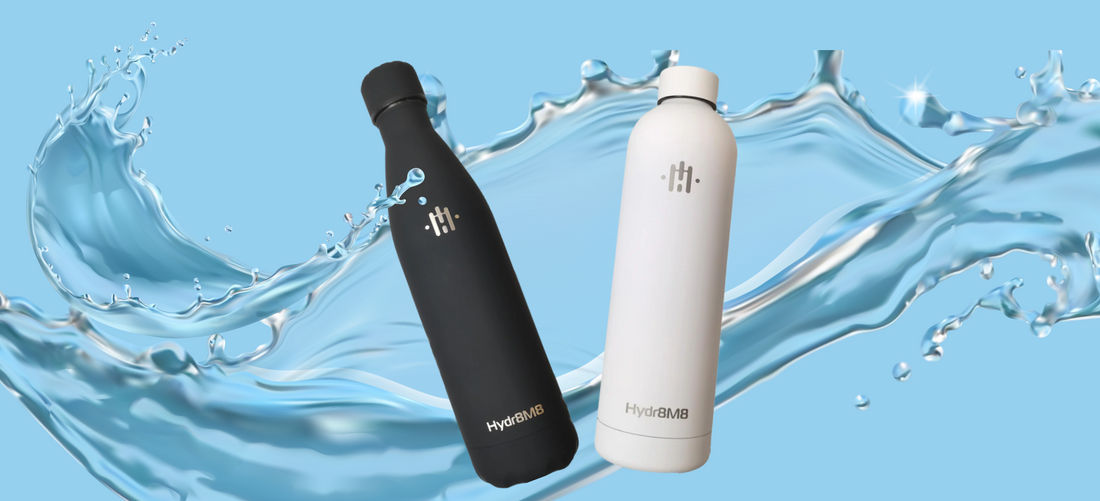 Hydry8m8: Double-walled vacuum sealed stainless steal water bottles
Hydr8M8 invented and patented a water supply system for the home and numerous other industries. Hydr8m8 set out to solve a common problem that every human being experiences, the need to drink water and stay hydrated. The unique selling pinpoint of the original idea was that by creating a device that delivers water to beds and night tables with hoses, you don't have to wake up again to drink water at night. If you are going to buy a water bottle for outdoor use, Aquaphant double wall vacuum sealed stainless steel water bottle should be high on your list. Insulated bottles are designed to keep cold liquids cooler (hot beverages hotter) for longer and are usually higher quality and more durable than plastic ones.
Why Insulated Water Bottles?
As the world becomes more environmentally friendly, single-use plastic bottles are becoming a sideline. In such a situation, a new choice has emerged for a hot water storage tube called a flask. This bottle is trendy, convenient, and attractive due to its heat retention.
It is appropriate for hot and cold drinks, and the taste does not change even if you carry the soup. It is convenient to have, there are no harmful substances, and it can be reused for decades. In contrast to plastic, this insulated bottle is resistant to mold and bacteria. It's also sweat-free, so you get a solid dry grip while running. Overall, investing in these bottles is also worth it for you.
Hydr8M8: Double walled vacuum sealed stainless steel water bottles
Double wall insulated water bottles, glasses, and other containers of hot and cold drinks are a great variety. It is often used as a travel mug and at home. It is a convenient way to keep your drink warm or cold to the end. Here are the main qualities of Aquaphant vacuum sealed stainless steel water bottles:
Stainless steel
Stainless steel is probably the most widely used in insulated bottle manufacturing. It has the most robust thermal insulation performance, is resistant to dents and scratches, is highly safe, lightweight, and has excellent cost performance. Consequently, extreme heat can cause fever and can be slightly more expensive.
Convenience
The advantage of the temperature control of the double-walled Hydr8M8 water bottle is its versatility. With a leak-proof lid and various spout styles, you can easily spend the day tossing a reusable stainless steel water bottle with a double-walled wall into your bag, along with other essentials. The lid fits well, so you don't have to worry about water droplets on your cell phone, wallet, or anything else important to you.
Replacement of Glassware
Conventional glassware goes up to room temperature quickly, but insulation technology keeps drinks cold at home. The same concept applies to hot drinks like coffee. The coffee that is poured into the mug cools down after an hour because the heat escapes by the combination of convection, conduction, and radiation. However, with the Hydr8M8 double-walled stainless-steel canister, the vacuum insulation and airtightness of the well-designed lid prevent these three types of heat transfer.
Non-condensing
Another advantage of vacuum insulation is that the exterior is not wetted with sweat. Compared to disposable plastic, double-wall stainless steel water bottles with cold drinks are not dew condensation, so they are convenient on the go. Upgrade your daily routine with our double wall vacuum insulated stainless steel water bottle, and you won't get wet membranes around the outside. So, when you put it in the car's cup holder, it keeps the part dry at the same time as a firm grip, and it becomes easy to care.
Easy to hold
With an iron flask, you can reach out to your drink with a firm grip that makes it easy to hold. Cold drinks remain cold, easy to carry on the outside, and resistant to dew condensation. Hot drinks warm the inside of the container without warming the outside, so there is no need to worry about burning your hands.
Cleaners
When you are busy at home, you forget the glass of water; when you go for a sip, it may be wet. Also, dust in the air can spread a film over the drink without the lid. However, the Hydr8M8 double-wall insulated water bottle protects your drink with a sealed, leak-proof lid. Also, the insulation will keep you cool for a few hours, depending on the size. The same is true for both glassware and disposable plastic bottles. Although it may appear like a more suitable choice when staying at home or working, even if the body is ice-cold when taken out of the refrigerator, it cannot keep its temperature until it is drunk quickly.
Durability
Stainless steel is precisely the MVP of our bottle. Lightweight and convenient for carrying and storing, it also has excellent durability. Unlike glass products that break easily and plastic bottles that drop and drop, stainless steel canisters are designed for years of use. Comparing single and double-wall water bottles, the body uses two layers of stainless steel, making it one of the sturdiest water bottles. An extra layer of stainless steel gives us the trademark longevity of the bottle, so you can take all the beatings of your daily adventures and keep it going for a long time.
Resistance force
For strenuous exertion, such as hiking or training, people may want to look for water bottles made of more resistant material. Stainless steel is an advantage, but depending on the level of durability required, there are different types to choose from.
Final Verdict
Rehydrate and enjoy better sleep with a sustainable water bottle from Eco Bad. Eco-friendly products such as alkaline ionized water filters and reusable water bottles make it easy for you to rehydrate with high-quality fluids that enhance your immunity. Visit our store today to see what's sustainable.
Hydr8M8 consists of a stainless-steel double-walled body, a material admired for its durability. This water-retaining tube, coated with powder coating, is virtually non-destructive, scratch-resistant, and can suppress temperature changes.
Read More: